Garden Buildings Buying Guide
Whether you're looking for simple outdoor storage or want to create a spectacular garden retreat, we've got lots of structures to suit you including sheds, summerhouses, greenhouses and log cabins.
Sheds and Outdoor Buildings
Explore all the shapes, sizes and styles you need in materials made to last including heavy-duty plastic, rust-resistant metal and traditional timber.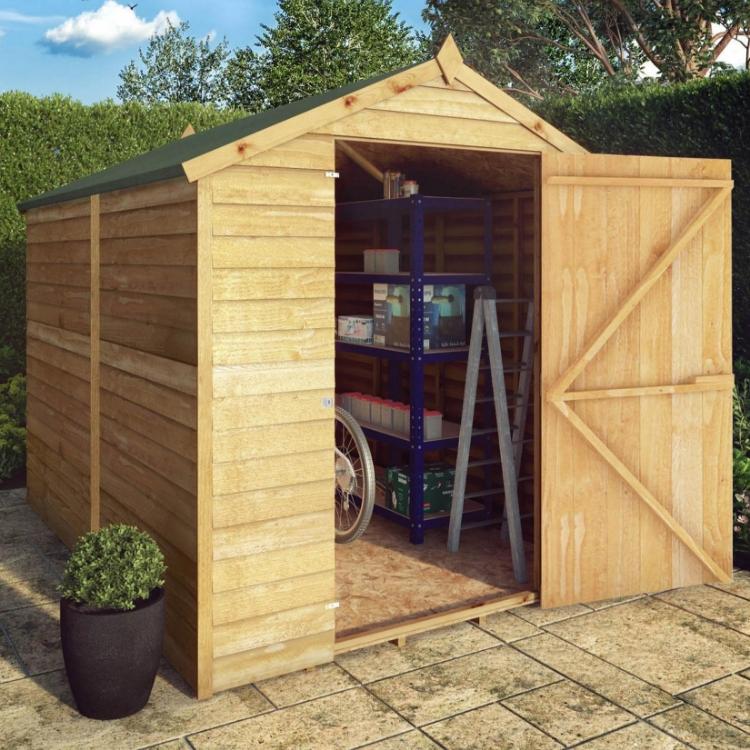 Overlap sheds
Overlap sheds tend to be more rustic in style with timbers overlapping each other to let rainwater run-off. They usually cost less than shiplap sheds. Most wooden sheds come with thin, durable wooden flooring known as OSB (Oriented Stand Board).
Shop Overlap sheds
Sizes, doors and windows
Our wooden sheds are available in a range of sizes to suit most gardens. Please make sure the shed you want will fit in the space available and gives you the storage space you need.
Door size is important depending on what you need to get through the door. They come in single and double door options.
Most sheds come with one or two windows (two windows will give you the best light if this is what you need). Security sheds have no windows and are perfect for keeping things safely out of view.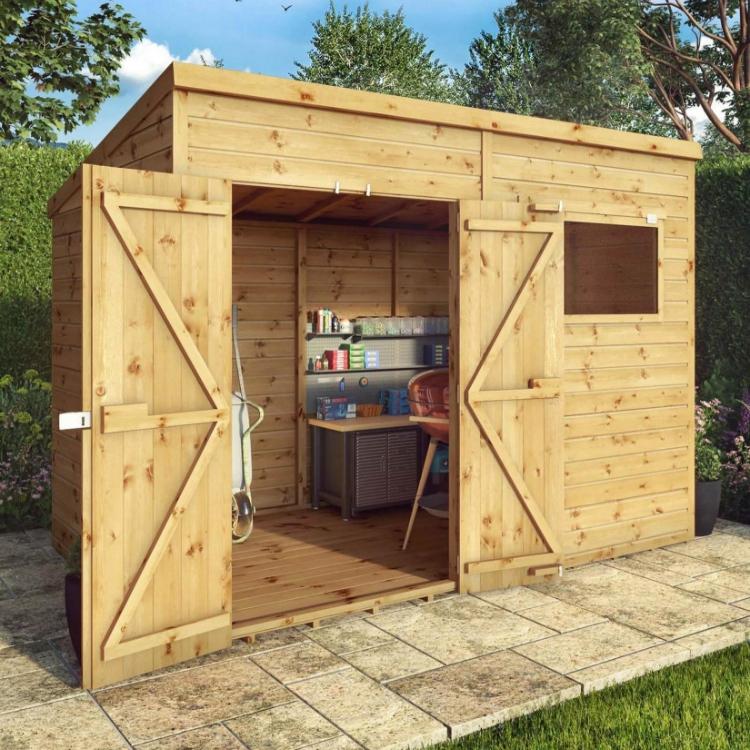 Tongue and Groove sheds
Tongue and Groove sheds have slightly thicker, interlocking timbers to reduce cracks. Most wooden sheds come with thin, durable wooden flooring (often referred to as 'Shiplap')
Shop Tongue and Groove sheds
Surface treatments
Shed timber is treated to protect against rot and insect damage. Dip-treated timber is finished with a factory applied surface treatment which needs to be renewed every year.
Sheds with a pressure treated finish (where the treatment is forced into the timber at high pressure in a vacuum chamber) will resist rot and insect damage for many years.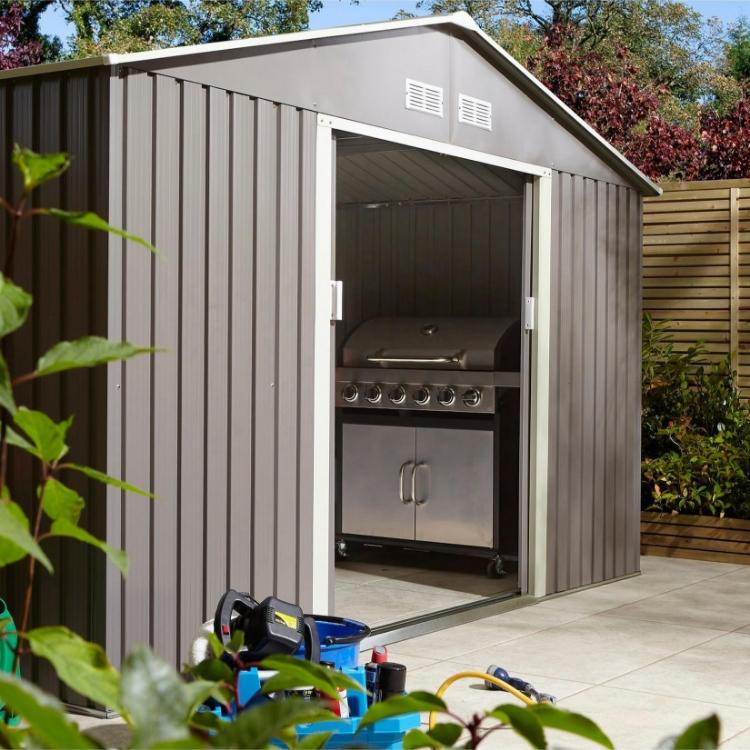 Metal sheds
Our metal sheds are available in a range of sizes to suit most gardens. They don't have windows, so they're an ideal choice for use as a security shed.
Metal sheds are maintenance free, they're made from hot dipped galvanised steel with a baked on weather - and insect repellent, permanent colour finish so there's no need to paint and no need to apply preservatives. And because they're fully galvanised, they won't rust.
Shop Metal sheds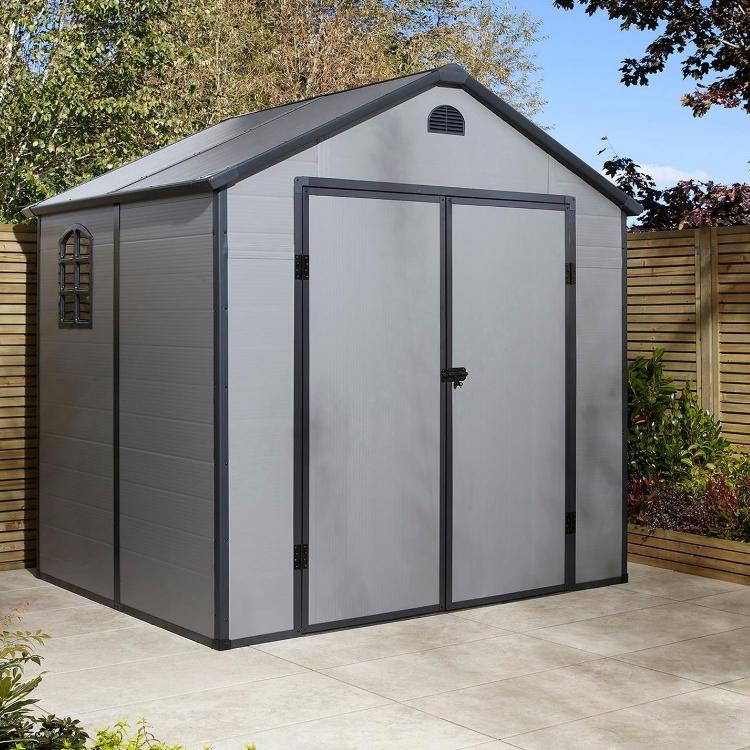 Plastic sheds
Our plastic sheds have no windows, so they're a great choice as a security shed.
Our Skylight range features unique Skylight roof panels, which illuminate the shed with soft, natural sunlight but remain opaque from the outside.
Shop Plastic sheds
Skylight Plastic
Skylight plastic sheds are made from durable, virtually unbreakable polycarbonate panels. They have a durable and rust-resistant aluminium frame plus an anti-slip floor designed with your safety in mind.
Skylight sheds are maintenance free and can be washed with no rusting, rotting or peeling and there's no painting needed. They're also 100% recyclable and eco-friendly.
Planning and Preparation
All sheds need to be constructed on a suitable base, which must be complete before you start assembling your shed. We recommend that you consider anchoring your outdoor building (especially greenhouses) to make sure they're secure during bad weather. Anchoring kits are available to buy separately.
All of our outdoor buildings require a minimum of 2 adults to do the assembly. Assembly options are available for some of our sheds with details shown on product pages.
Greenhouses
Providing the perfect environment for fruit, vegetables, herbs and plants to thrive, we've got lots of ways to help you grow your own, whatever your space.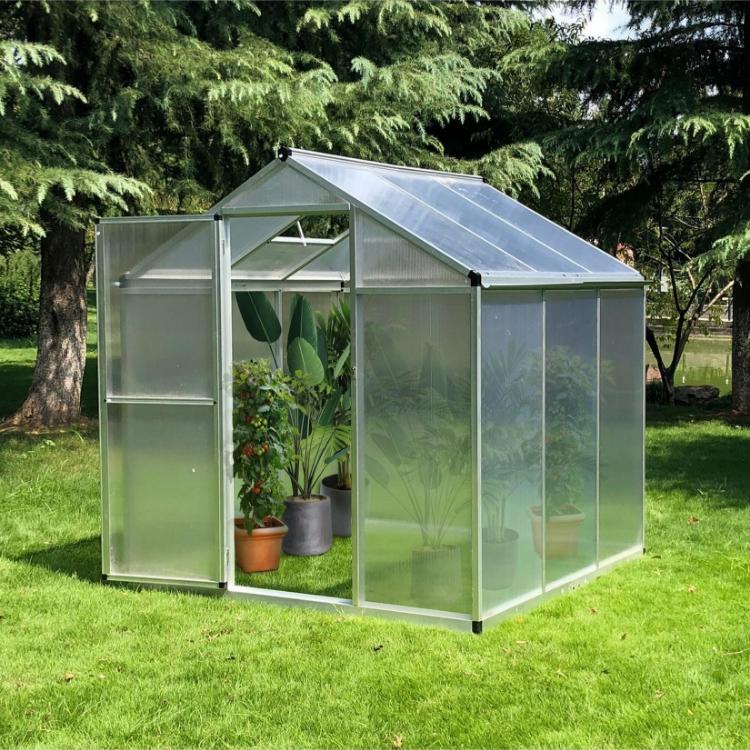 We have a variety of different sized greenhouses from a compact 4x2ft lean-to for the enthusiastic beginner or a garden with little space. Or for the best of both worlds, choose the glorious 12x10ft orangery that can double as a greenhouse or sun room. Our greenhouses are available in green, silver or black, and all of them use Polycarbonate glazing instead of glass. So they're virtually unbreakable and shatterproof.
Shop Greenhouses
Positioning your Greenhouse
You'll want to place your greenhouse where it'll catch the best of the sunshine. Please make sure you map out space carefully, so you pick the correct size for your garden and to get a good idea of how it will fill the space.
Summer Houses and Log Cabins
From traditional styles to cool and contemporary, make a statement with the ultimate outside space to relax, entertain, work, study or play.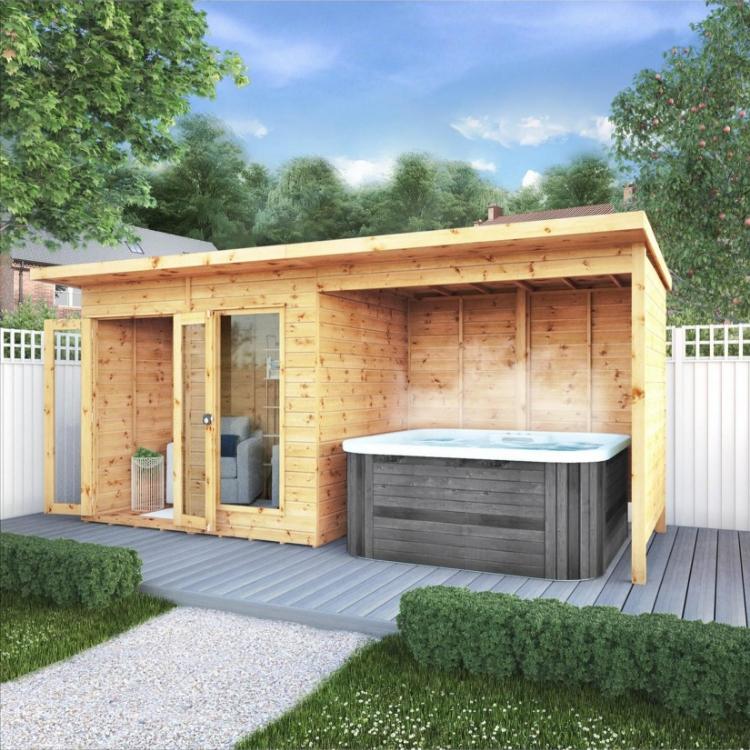 Summer Houses
Create the welcoming outside space you've been dreaming of with a stunning summerhouse in a choice of classic apex or sleek pent roof styles.
Shop Summer Houses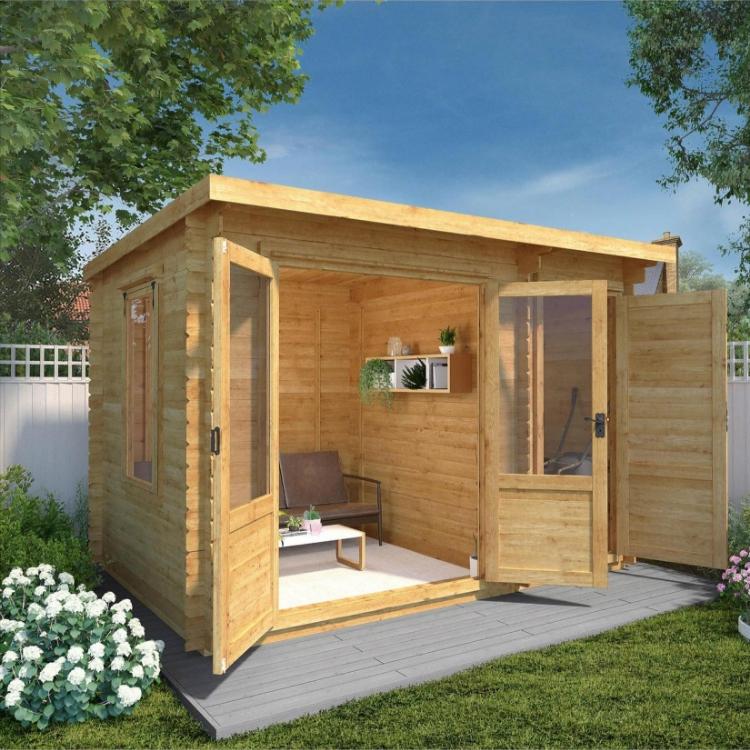 Log Cabins
Relax and unwind in a classic garden getaway featuring extra thick wood panelling. Most of our log cabins have an untreated finish so you can style them to compliment your garden design.
Shop Log Cabins
Garden Buildings for Outdoor Living
Make the most of your outside area with a garden building from our selection at Very. Whether you're looking for a versatile playroom or work-from-home office space, or simply adding extra storage to help everything stay tidy, you'll find something to suit in our fab range. You can keep your vibe traditional with wooden sheds, or opt for a sleek and contemporary look with garden buildings made from smart and durable metal panels. On the hunt for a greenhouse? Check out pop-up portable styles with small footprints that are easy to tuck into unused corners or against sheltered walls.
Durable and Practical Plastic Garden Rooms
If you want a building that's low-maintenance and easy to set up, check out our range of plastic garden rooms for inspiration. These lightweight and hardwearing models are crafted from sturdy resin, giving a smart look that doesn't need painting or treating to stay looking its best. Keep an eye out for features such as floor panels so everything stays off the ground, and ventilation slats that ensure safety. We have compact designs that are ideal for stowing garden tools or wheelie bins. Or treat yourself to a full-size shed, with enough headroom to stand upright.
Small Garden Buildings for Compact Spaces
Looking for a garden building that won't take over your whole lawn? Our small garden buildings provide the neat design you need. You'll find slimline shapes in a choice of orientations, so you can tuck them away into an unused corner and safely stow your tools and equipment. Look out for apex roofs that give added height in the centre, and full-width doors so your new shed is easy to access. Add a large storage box that doubles as casual outdoor seating, and accessorise with plush cushions and cosy throws to make the most of warm evenings.
Spread the cost of any new purchase into 3. Make 3 payments, over 3 months, and pay no interest
How
Take 3 is automatically applied to everything you buy, so you don't need to do anything. Simply go shopping and add your purchases to your account and we'll work out your Take 3 payment for you. All you need to do is pay the Take 3 amount shown on your statement on time and pay no interest.
Key features
Available on any purchase, every time you shop

There's no extra cost, none at all

You'll only pay interest if you choose not to complete payment in 3 monthly instalments

Take 3 is exclusive to very.co.uk
If you decide you want to take a little longer to pay, you can. Just make your minimum payment. Find out more.
Representative 39.9% APR variable
Open a Very account
Credit provided, subject to status, by Shop Direct Finance Company Limited. Registered office: First Floor, Skyways House, Speke Road, Speke, Liverpool, L70 1AB. Registered number: 4660974. Authorised and regulated by the Financial Conduct Authority. Over 18's only.