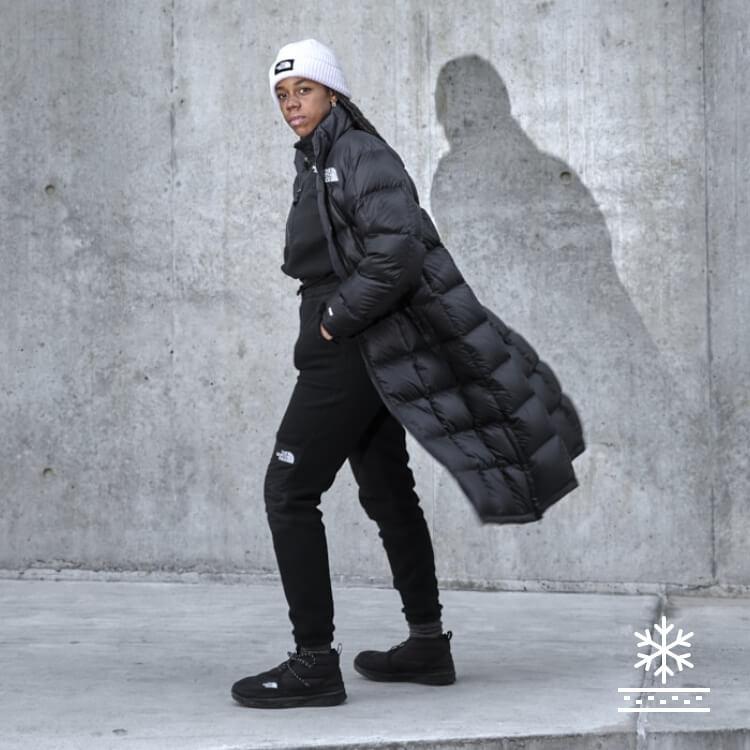 Insulated jackets
Find the ideal warmth-to-weight ratio to keep you comfortable for inevitable temperature drops
Shop now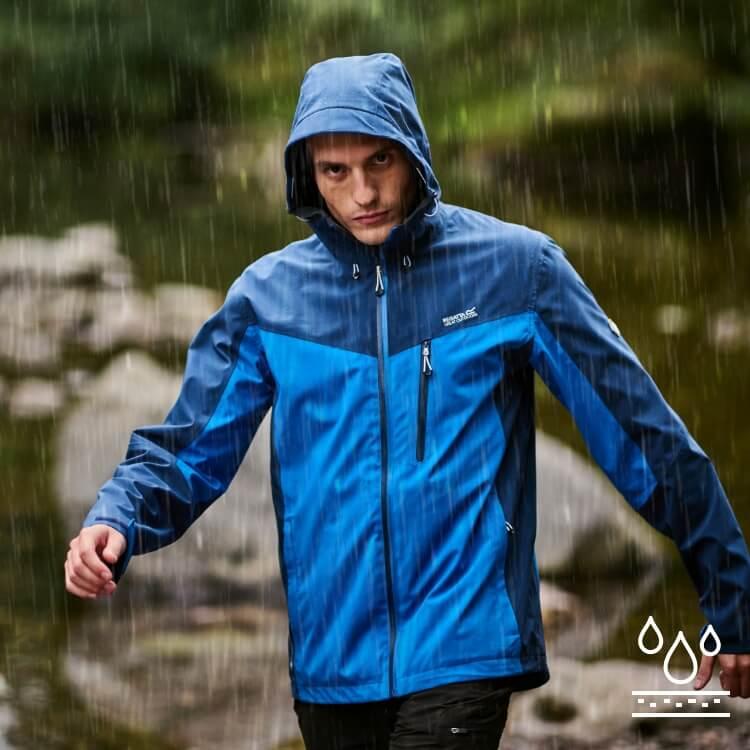 Waterproof jackets
Stay dry with the essential protection you'll need for when the storm clouds start to gather
Shop now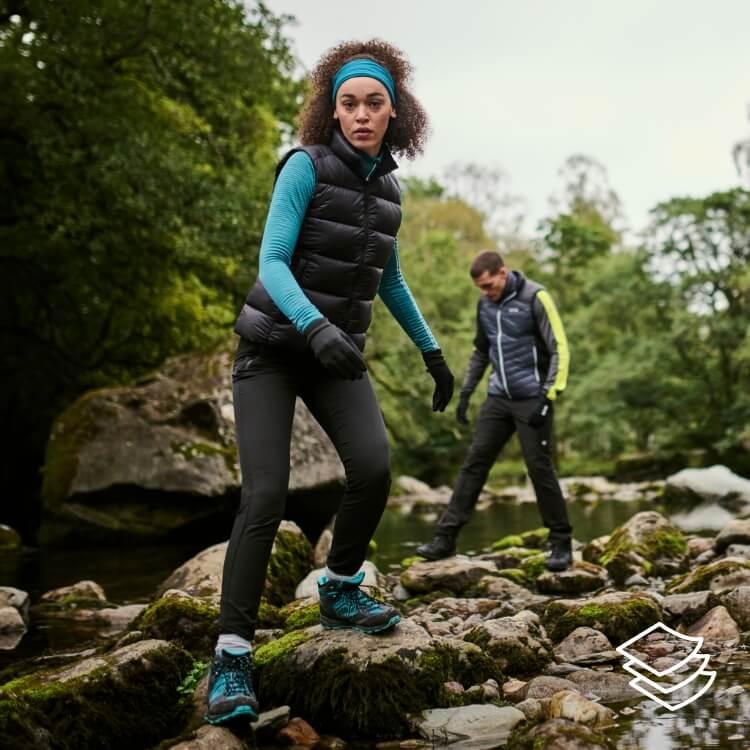 Layers
Make sure you're ready for anything with our range of baselayers, midlayers and outerlayers
Shop now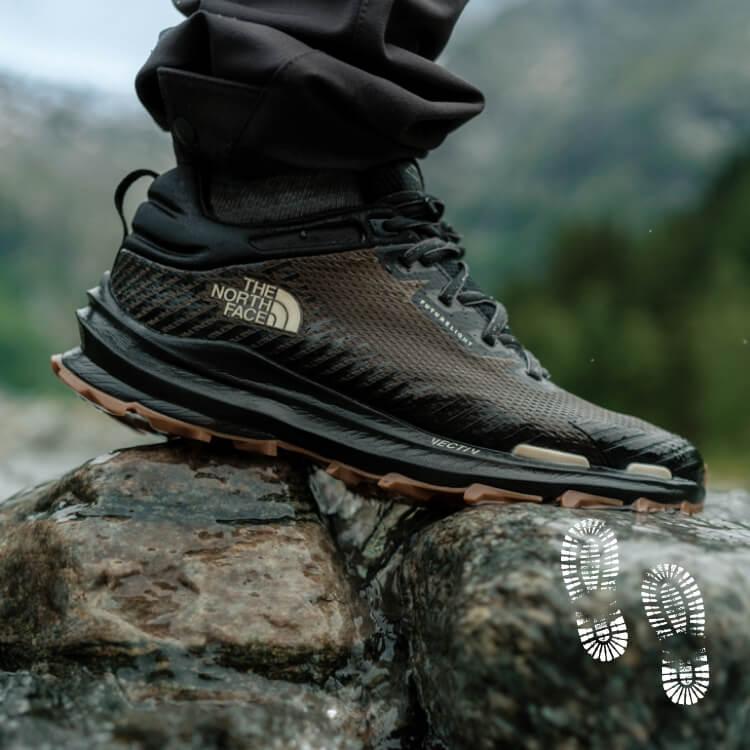 Footwear
Contend with tough terrain and find hard-wearing shoes and boots that are with you every mile
Shop now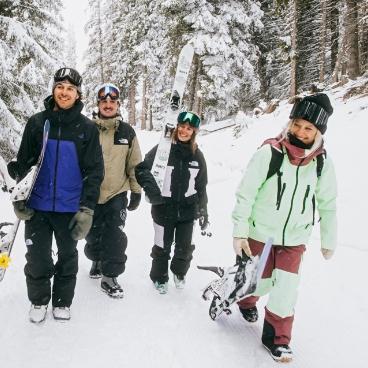 Skiing
Chase the rush of adrenaline with snow and skiwear created especially for the slopes
Shop now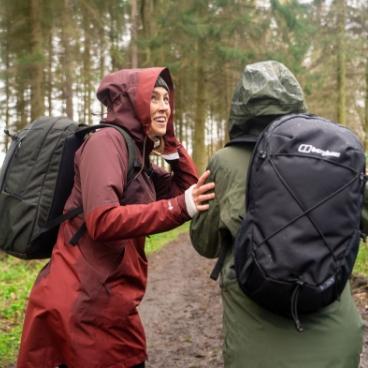 Bags
From weekend carriers to bags for longer trips, safely move your gear from place to place
Shop now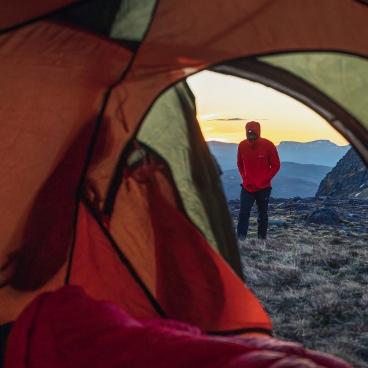 Camping & Hiking
Everything you'll be using to ascend to the mountain summit or sleep snugly under the stars
Shop now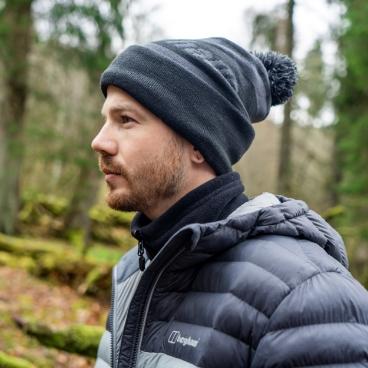 Accessories
All the extra equipment and add-ons you need to make your trip more than just memorable
Shop now
Talking technical
We've provided a comprehensive rundown on the key product principles to allow you to make an informed decision on what best suits your needs for commutes, country walks or big expeditions.
▷
Insulation
It's essential that you consider the type of activity you're going to get up to when you're choosing a jacket. We've split them into three categories to help you make an informed decision on what's right for you.
Lightweight
These will be minimally featured and be insubstantial in weight. Designed to be thrown on at a moment's notice, they should be worn during high-intensity activities when weight needs to be taken into consideration. A space-saver, many can pack themselves into a pocket to offer the perfect balance between weight and performance.
Midweight
Although they may spend most of their time in your pack, they can comfortably cater with most types of precipitation, from relentless drizzle to summer downpours. Embellished with more fit adjustments and pockets, they're at the midpoint between weight and pack size, and come into their own when the forecast is uncertain.
Heavyweight
Heavyweight Often including many more features to add to their comfort and habitability, as weight isn't the primary concern. Created to withstand the cold, wind, snow and rain, they usually contain a thick insulation to keep the body warm even when it's not in motion that protects from both wind and precipitation.
Endurance
For when you know you'll be needing protection all day, they're made from durable, high breathable materials that thrive in the worst conditions. They include all the features required for intense activities such as mountaineering and climbing in snow or rain, as well as the zones where heavy wear is necessary.
THERMOBALL™
A revelation in insulation, Thermoball™ utilises small round Primaloft synthetic fiber clusters that work in the same way as down, trapping within air pockets to retain warmth without weighing you down. Perfect for travel, trekking or working out whatever the weather, Thermoball™ is packable and lightweight and has the added benefit of performing just as well even when wet to provide non-stop warmth.
THERMOBALL™ ECO
All the benefits of Thermoball™ with the added benefit of being crafted from 100% recycled polyester, Thermoball™ Eco is the ultimate choice for outdoor explorers who are conscious of their environmental footprint as well as their gear.
GOOSE DOWN FILL
In order to keep animal welfare at the forefront of their apparel, The North Face created the Responsible Down Standard (RDS) to ensure the down they use in coats and jackets comes from animals that have been well treated.
Defined by the ratio of powder fill to goose down, each numbered rating of down holds different properties and are designed for a range of activities. From 900 fill that offers unbeatable warmth-to-weight ratio that's geared for true expeditions, down to 600 fill that's perfect for day-to-day wear and cold days in the city.
POLARTEC®
Favoured by experienced outdoor adventurers for decades Polartec® thermal fleeces are available in different weights and finished to ensure optimum performance in a range of environments. With the options of three weights available, there's a fleece for every adventure.
Polartec® 100 is the lightest, ideal for a warming base layer or outer shell on warmer days;
Polartec® 200 offers optimal warmth and versatility as well as a soft hand feel;
Polartec® 300 are the heaviest available and are ready for the coldest conditions.
▷
Waterproofing
DRYVENT™
Designed to take on the elements, garments using Dryvent™ technology have been engineered to be fully waterproof and yet breathable. Each layer has been created to allow vapor from sweat to pass through, while the durable water repellent finish prevents water droplets from getting in. Available in a variety of weights, textures and performance characteristics, there's a style to match every activity.
FUTURELIGHT™
The ultimate in waterproofing innovations - Futurelight™ is fully waterproof and for the first time ever, has air permeability built into the innovative nano-spun membrane. This creates clothing that's ultra-lightweight, hardwearing and ready to perform athletic feats under any conditions.
Water resistant / Snowproof
▷
Breathability
FLASHDRY™
Acting like a second skin - Flashdry™ technology works to draw moisture away from your skin, allowing it to evaporate quickly and efficiently so you stay dry and comfortable during exercise. Fusing comfort with performance - clothing with this technology are perfect for outdoor training and activities.
▷
Windproofing
WINDWALL™
Engineered to reduce wind chill on blustery days while helping to regulate your body temperature so you don't overheat, The North Face incorporated WindWall™ into a variety of products.
WindWall™ softshell products are available in both windproof and wind resistant finishes. Windproof gear is also virtually waterproof to protect you from all conditions, and wind resistant pieces are most versatile with stretch too for freedom of movement;
WindWall™ shell offers lightweight coverage, wind resistance and packable design;
WindWall™ fleece boasts the comfort and warmth of a traditional fleece with added wind chill protection.
WINDSTOPPER®
Fusing maximum breathability with maximum wind protection, Windstopper® is soft and lightweight, warming and insulating and water resistant too, ensuring total protection in cold and windy conditions.
▷
Footwear
XTRAFOAM™
Whatever the distance or terrain, XtraFoam™ is designed for complete comfort and support with its four key layers.
XtraFoam™ core - an EVA compound that cushions your stride for all day wear;
Perimeter EVA midsole - slightly firmer and denser than the core, it provides structure for stability;
ESS Snake Plate™ - even firmer EVA foam that protects the most sensitive areas of your foot;
Vibram® XS Trek outsole - a hike specific traction pattern crafted from high performance rubber for grip on all terrain.
VECTIV™
Engineered for the trail, VECTIV technology combines a 3D Plate with a Rocker Midsole to convert energy into momentum and propel you forward.
VECTIV 3D Plate™ - full length carbon fiber plate provides stability and propulsion with added lateral support directly underfoot.
VECTIV Rocker Midsole™ - curved, 'rocker' shape midsole shifts downward force into forward momentum to optimise the energy you put in.
SURFACECTRL GRIP OUTSOLE - high-traction outsole provides sturdy grip on the toughest of terrain.
Spread the cost of any new purchase into 3. Make 3 payments, over 3 months, and pay no interest
How
Take 3 is automatically applied to everything you buy, so you don't need to do anything. Simply go shopping and add your purchases to your account and we'll work out your Take 3 payment for you. All you need to do is pay the Take 3 amount shown on your statement on time and pay no interest.
Key features
Available on any purchase, every time you shop

There's no extra cost, none at all

You'll only pay interest if you choose not to complete payment in 3 monthly instalments

Take 3 is exclusive to very.co.uk
If you decide you want to take a little longer to pay, you can. Just make your minimum payment. Find out more.
Representative 39.9% APR variable
Open a Very account
Credit provided, subject to status, by Shop Direct Finance Company Limited. Registered office: First Floor, Skyways House, Speke Road, Speke, Liverpool, L70 1AB. Registered number: 4660974. Authorised and regulated by the Financial Conduct Authority. Over 18's only.